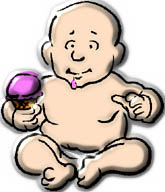 I have been asked to attempt a post. Here goes nothing:
Hexe has access to a computer, but that computer doesn't have access to the rest of the world. I'll be heading up north on Tuesday. If all goes well, then Hexe will be back blogging Tuesday night. Until then, you get me... PH
When Hexe arrived at her mother's home on Wednesday she learned that her brother is moving to a new home and Grandmother had
volunteered
to watch Hexe's giant nephew for the next two days. (Giant Nephew is not even one year old, but he is bigger than our two year old son, Hew). Of course, Grandmother had to leave before first light this morning to "visit a friend" who was being buried. I don't know why she cannot say the F-word (funeral), but that is where she told KK and Hew that she was going.
So, Grandmother heads out to "visit" her friend at 5:00 AM. Of course, Giant Nephew wakes up screaming for a new diaper and the first of his 10 meals for the day. Hexe crawls out of bed to his crib and tries to silence the screaming, but unfortunately Hew and KK get up and join the chorus. After 3 bananas and endless bowls of raisin bran Giant Nephew is finally silenced.
Hexe tries to take a nap, but her "Aunt M" stops by unannounced for a visit with the kids.
When "Aunt M" finally leaves Hexe tries once again to nap, but then Great Grandmother and Great Grandfather come by for a visit with the Kids.
I cannot imagine why, but Hexe tries to nap for a third time, but this time "Aunt N" comes by.
Hexe then leaves the kids with "Aunt N" and goes for a walk in the woods. (She did come back.)
I miss the screaming. The silence back here in Florida is deafening.